Much like the way a hug from a loved one feels, sending a bouquet of sympathy flowers or contributing to their collection of florals during a celebration of life can go a long way. When offering your condolences to a family or friend who has recently lost someone, bereavement flowers can offer encouragement, positivity, and uplifting thoughts thanks to their symbolic meanings and simply beautiful appearance. Here at Heartfelt Florist, we know the importance of choosing the best flowers to send to loved ones who are grieving, and that's why we have put together this brief guide to lend our assistance. When we are at a loss for words, flowers have the power to convey the perfect message.
Types of Sympathy Arrangements
Floral Baskets and Plants
Verdant plants and baskets of flowers are full of positive energy and, therefore, are popular items to send to the homes of those in mourning or missing a loved one. It is proper etiquette for anyone to send these types of plants and florals to their home or workplace, especially if you have a close or significant relationship with the bereaved. Sending a floral basket or sympathy bouquet to the funeral home is often reserved for those who had a close or significant relationship with the person the celebration of life is honoring.
Floral Wreaths and Sprays
Family members, close friends, organizations, and business colleagues who would like to honor a person who has passed have the option of gifting floral wreaths and sprays. These flower designs have a special and unique purpose and should be delivered directly to the funeral home. Before coordinating your delivery, it is always a good idea to check in with the bereaved family to ensure it is appropriate for you to contribute to the service flowers and confirm further details for the delivery.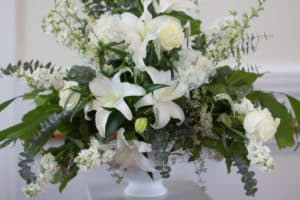 Floral Arrangements and Tributes
Those with deeper relationships to the deceased, like close family members, sometimes choose to send a unique floral design representing their hobbies, values, or other aspects of life. Tribute arrangements may depict a favorite hobby, occupation, personality, passion, and more. Significant bouquets and tributes are typically displayed during the funeral service or celebration of life to honor and remember the spirit of the loved one who has passed.
Meaningful and Symbolic Bereavement Flowers
After identifying which type of bereavement flowers or sympathy arrangement is most appropriate to send, the next step is to choose which types of blooms and hues you want to ensure are included. An easy route to take is selecting their favorite flowers and colors to celebrate and honor their memory. However, consider an arrangement designed with these meaningful flowers if you aren't sure of their favorites or want to create a truly symbolic sympathy arrangement that offers thoughtful expression.
Roses
In addition to love, roses that are deep red or crimson have a gentle connection to grief and mourning.
Chrysanthemums
As a symbol of mourning and grief in Pacific Asian countries, chrysanthemums also tend to show up in many European sympathy bouquets and tributes.
Carnations
Often appropriate for bereavement flowers, white carnations represent innocence and youth, while lovely red and soft pink carnations are connected to remembrance, love, and admiration.
Lilies
With a strong link to Christianity, lilies are a symbol of innocence and peace. Sword lilies, with elongated and graceful stems, are especially meaningful as they are tied to moral strength, remembrance, and loyalty.
Gladioli
Gladioli hold a unique significance that represents admirable qualities, including sincerity, moral integrity, and strength of character.
Bright Colored Blooms
It may come as a surprise that we are suggesting you consider brightly colored blooms to include in your sympathy arrangements. However, in a time of darkness and deep sadness, uplifting blooms may be just the thing to ease stress and bring a fresh sigh of relief. A monochromatic arrangement or sophisticated multi-colored floral bouquet or basket can represent the positive energy, optimistic attitude, and high spirit of the person who has passed. As the recipient admires these blooms, they are sure to be reminded of blissful memories and joyful experiences they shared.
When our words seem to fail us or prove to be not enough, flowers are the perfect thing to turn to to help convey our heartfelt message. The healing powers found in breathtaking blooms are unrivaled as Mother Nature has saturated them in remarkable symbolism, nostalgic fragrances, inspiring hues, and unconditional love. While acknowledging the significance and importance of bereavement flowers and sympathy arrangements, your friends and family here at Heartfelt Florist are always at your service.